TIME Broadband
Promotion
Enjoy 500Mbps At RM99 only!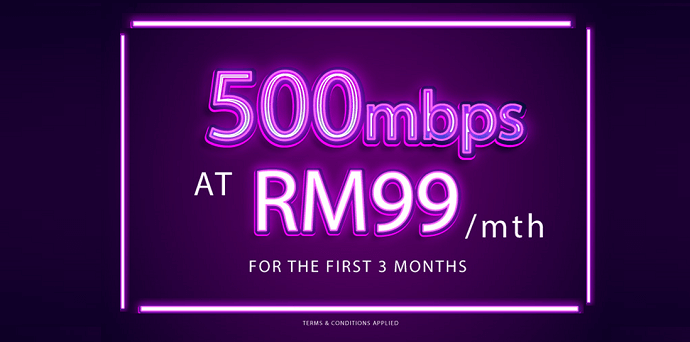 Stay Home and Enjoy High Speed Broadband.  
Pay Only RM99 / month for the first three months with 500Mbps.  
Promotion Period: Jun 15th 2020 to Jul 14th 2020
Monthly fee will automatically change to RM139 on 4th month onwards.
For 24months contract only.
Customer may choose to maintain or downgrade after 3 months.
MAINTAIN 500 Mbps Monthly Fee at RM139 | DOWNGRADE to 100 Mbps Monthly Fee at RM99
Customer can only downgrade themselves via self-care.
Upon no action by customer, TIME assumes customers will retain 500Mbps at RM139.
1Gbps @ RM189/month (Normal RM199/month) for 24 months.
Other Promotions: